Hello, it's Friday, May 26, and here are the stories you shouldn't miss today:
TOP STORIES
Supreme Court limits federal protection for wetlands
The Supreme Court limited federal protection for millions of acres of U.S. wetlands, ruling for property rights over clean water.
In a 5-4 decision, the justices said the Clean Water Act does not forbid developing marshy areas or dry creek beds because water does not flow regularly and directly from them into a river, lake or bay.
Since the 1970s, the law has broadly protected wetlands from development because they help improve water quality and because dredge material can pollute rivers and bays.
More politics
Sign up for our California Politics newsletter to get the best of The Times' state politics reporting and the latest action in Sacramento.
Popocatépetl volcano in Mexico erupts, threatening millions
For months now, Popocatépetl has been spewing molten rocks and shooting massive columns of ash into the sky. On Sunday, officials raised the volcano threat level to "Yellow Phase 3," which calls for those who live nearest to the volcano to prepare for possible evacuation.
There is no indication that catastrophic eruption is underway, experts said. Still, the volcano's long history of destructive explosions and the 24 million people who reside within 60 miles of its crater make Popocatépetl an acute threat. Authorities aren't taking any chances.
Will Southern California home prices continue to drop?
Last year, rising mortgage interest rates chilled the previously hot Southern California housing market. Buyers backed off, sales plunged and, for the first time in a decade, home prices underwent a sustained slide.
By one measure, prices in the six-county region fell 13% from the peak last spring. That might be as low as they go.
California air regulators vote to ban toxic chrome plating by 2039
California air regulators voted Thursday to ban the use of hexavalent chromium, known as chrome-6, for restoring classic car parts, protecting aviation components and producing a lustrous metallic finish for a variety of consumer products.
Although hardened chrome is harmless, the fumes from the plating process — 500 times more toxic than diesel exhaust — increase cancer risk in many disadvantaged communities across the state, according to California regulators.
PHOTO OF THE DAY
CALIFORNIA
A 'catfishing' cop faked an investigation. Then he killed a family, kidnapped a girl. Virginia cop Austin Lee Edwards spoke to Mychelle Blandin the day he killed her sister and parents, kidnapped her niece and burned down their Riverside home, Blandin told The Times in an interview.
Police arrest 17-year-old in connection with brutal stabbing of an L.A. Metro bus driver. The driver, a 61-year-old man, suffered stab wounds to the chest, neck and back. He remains in critical condition at Northridge Hospital, according to police.
Deemed 'too broken to fix,' San Bernardino County child services is sued on behalf of nearly 6,000 kids. The federal lawsuit alleges San Bernardino County Children and Family Services failed to protect youths under its care as numbers of abused children in the system rose.
California's blistering heat sparked power shortages last summer. Here's this year's forecast. State officials say the winter's wild weather helped refill hydropower generators, decreasing the risk of dangerous electricity outages this summer.
Support our journalism
Subscribe to the Los Angeles Times.
NATION-WORLD
More than 200 Americans are at risk of meningitis after surgeries in Mexico. The Centers for Disease Control and Prevention said that it is collaborating with the Mexican Ministry of Health and U.S. state and local health departments to respond to the outbreak among patients who traveled to Matamoros, across the border from Brownsville, Texas.
Don't eat raw cookie dough, CDC warns: Salmonella outbreak linked to bake-at-home products. Investigators tied the outbreak to two varieties of cookie dough sold at Papa Murphy's Take 'N' Bake Pizza stores. The outbreak is the second salmonella outbreak to reach California this month after a case from Gold Medal white flour was one of 13 cases reported.
Oath Keepers' Stewart Rhodes is sentenced to 18 years in Jan. 6 attack. He is the first Jan. 6 defendant convicted of seditious conspiracy to receive his punishment, which will set the standard for a slew of sentencings to come for members of far-right extremist groups.
HOLLYWOOD AND THE ARTS
After two 'catastrophic' years for Broadway, have the Tonys become too big to fail? Though it ultimately secured a compromise that will allow the ceremony to proceed despite the ongoing writers' strike, the Tony Award Management Committee's position exposed just how dependent the American theater industry has become on the annual celebration.
Explaining Hollywood: How to get a job as an actor in film and TV. People often see only the most glamorous aspects of being an actor — the parts that involve lights, camera and action, and the promotion of the finished project. But for most film and TV actors, professionals say, the job is auditioning.
Tina Turner, a rock star for the ages, shouldn't be defined just by what she endured. Her story is one of resilience, no doubt — "Basically, the message is determination," she told The Times in 1996 — yet she wasn't defined by what she'd endured; instead, she found new ways to thrive.
BUSINESS
Weight-loss app Noom was all about mindfulness. Now it wants to sell you costly diet drugs. Noom is among a field of companies aiming to capitalize on the drugs that help people feel fuller and eat less with relatively few side effects.
Target is on the defensive after removing LGBTQ+-themed products. It wasn't long ago that Target was seen as a trailblazer among retailers in the way it embraced LGBTQ+ rights and customers. The company is operating in a very different environment now.
DirecTV keeps NFL Sunday Ticket rights for restaurants, bars and casinos. The satellite TV provider will distribute Sunday Ticket games to more than 300,000 business establishments in the U.S. — sports bars, casinos, restaurants and offices — through a new multiyear television rights package with the NFL. The contract begins with the new fall season.
SPORTS
USC names interim administrator to lead athletic department and Big Ten transition team. USC has appointed an "interim executive administrator" to help steer a reeling department in the wake of Mike Bohn's resignation Friday. How long USC will be without a full-time leader remains to be seen.
'She's ready': How rookie Zia Cooke has embraced the moment with the Sparks. The Sparks have something good in the 22-year-old out of South Carolina. Cooke scored 14 points on five-of-six shooting in 15 minutes during her WNBA debut last week in front of a star-studded crowd of 10,396 at Crypto.com Arena.
Athletics and Nevada reach a tentative agreement on the move to Las Vegas. The A's play their final game of the season in Anaheim on Oct. 1. If their proposed move to Las Vegas is finalized, the team could open next season in Nevada.
Free online games
Get our free daily crossword puzzle, sudoku, word search and arcade games in our new game center at latimes.com/games.
OPINION
Opinion: El Niño is back. What does that mean for an already overheated California? "In a cooler world, the costs of El Niño were enormous. In a warmer one, they're higher still. We can no longer rely on luck alone to save us. Preparing California, the nation and the global economy for the risks we face begins with an honest accounting of the cost of inaction," write Justin S. Mankin and Christopher W. Callahan.
Opinion: Why did Ron DeSantis think announcing his candidacy to Elon Musk was a good idea? "The first impression Americans will have of the DeSantis campaign is that he declared his candidacy on a platform that's been in a financial free fall ever since his announcement co-star, Elon Musk, took it over," Kurt Bardella writes.
The real story of bus shade 'La Sombrita' is more than a meme. A pilot test of a shading system for L.A. bus stops has been roasted on Twitter. But the gender-equity effort that launched it should not be dismissed, columnist Carolina Miranda writes.
YOUR WEEKEND
49 rooftop restaurants and bars in L.A. to soak in the best city views. There's the reward of hiking to the top of a trail, but as summer approaches, L.A.'s rooftop restaurants and bars prove more tempting, offering incomparable vistas alongside sparkling pools, creative cocktails, prime people-watching and, of late, memorable meals.
Traveling for Memorial Day weekend? You'll be sharing the road with nearly 3 million of your neighbors. At least 3.3 million Southern Californians are expected to travel this Memorial Day weekend, the latest sign of recovery from the pandemic for the region's hard-hit tourism industry.
The top 10 California experiences you'll recommend again and again. The Times' Christopher Reynolds compiled a list of this year's 101 best California experiences. But within that sprawling group of favorites, he has a tighter group of greater favorites — his own top 10, shaped by desert dawns, summer surf and the tang of tri-tip on a slow Thursday night.
WHAT OUR EDITORS ARE READING
Note: Some of the sites we link to may limit the number of stories you can access without subscribing.
Higher education fled this American small town. It left behind 'a ghost town.' West Virginia's decision to move West Virginia University Tech is important not just for what it took away but also for the distrust it fueled with its departure. The residents of Montgomery, W. Va., feel abandoned by the state's powerful flagship university, which also has become the state's largest healthcare provider and employer. USA Today
An Ode to Buc-ee's, the Greatest Gas Station on Earth. "There are so many devilish snacks, so many things you never knew you wanted (and definitely don't need) but will buy anyway. Duck in for a Diet Coke, and walk out with a cowhide flask, pickled quail eggs, and beaver-faced fuzzy slippers. This is the mythos of Buc-ee's," Ashlea Halpern writes. Condé Nast Traveler
The surprising reason luxury goods are booming. The psychology of why we buy designer products eschews typical economic sense, because the motivation to buy is about status. The higher the price, the more status you're theoretically buying. This is why it's not just rich people buying rich people things. Vox
FROM THE ARCHIVES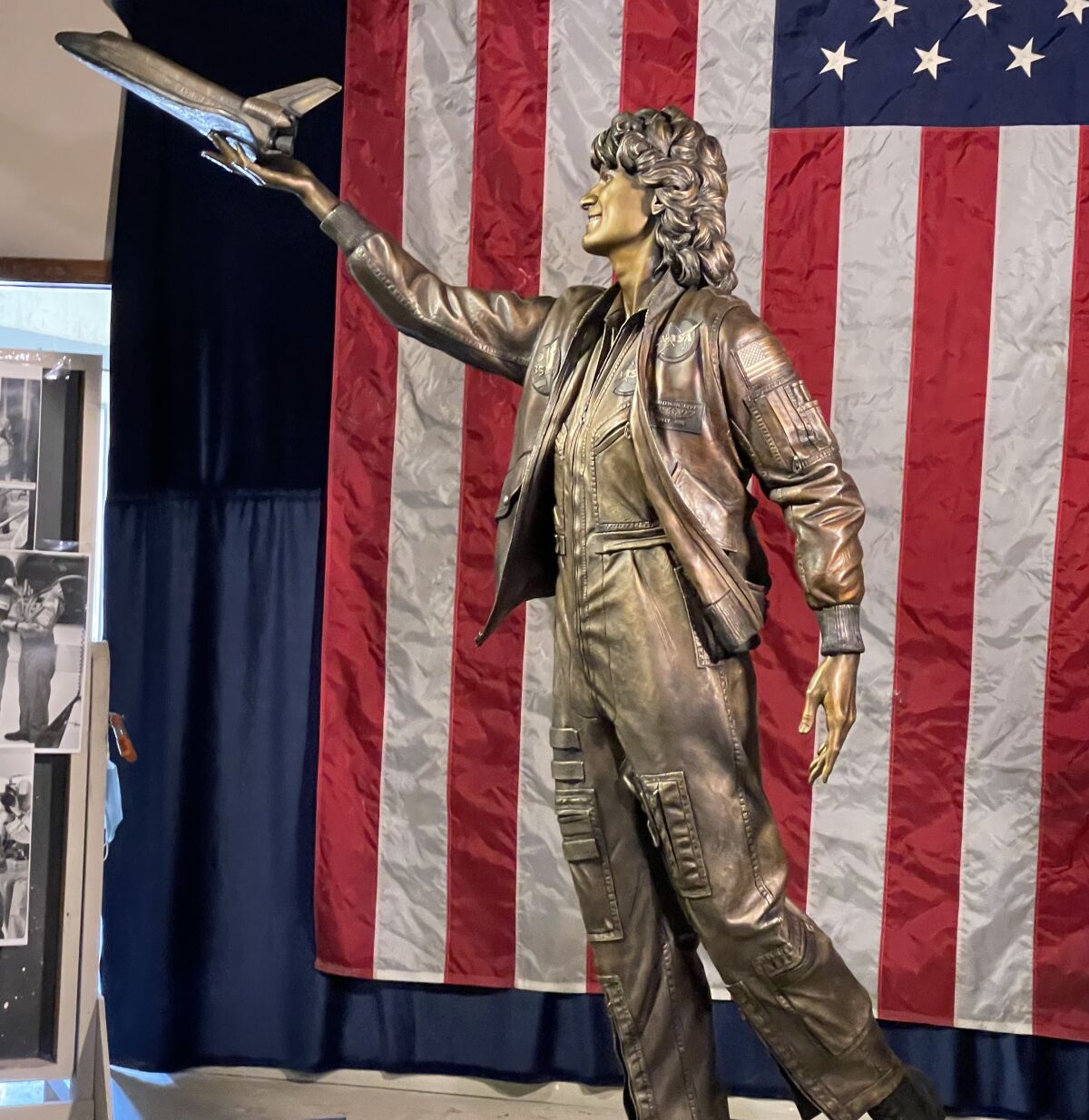 On this day 72 years ago, the first American woman to travel in space was born.
Sally Ride, who became famous for her presence aboard the space shuttle Challenger in 1983, was also the youngest American sent into space and the first woman to make two trips.
When she died in 2012, The Times wrote about her life and how her trip into space made her a household name and a symbol of the ability of women to break the glass ceiling, inspiring generations of young girls and women who came after her.
We appreciate that you took the time to read Today's Headlines! Comments or ideas? Feel free to drop us a note at headlines@latimes.com.