With just two events remaining on the schedule before the FedEx Cup Playoffs, the penultimate stop brings us to the Motor City. The Midwest hosts for one more week, at the Rocket Mortgage Classic at Detroit Golf Club. As always, our weekly preview will cover Rocket Mortgage Classic odds and a course breakdown.
Established in 1899, Detroit Golf Club has long history. But, it is still very fresh to the PGA TOUR, with the Rocket Mortgage Classic added to the schedule on these grounds just three years ago.
I have fond memories of the 2021 Rocket Mortgage Classic. This time last year, I streamed PGA TOUR Radio on the shores of Rivera Maya with an early trip to the bar to watch Cam Davis and Troy Merritt — both on my card — battle out in a playoff. I did also have conviction that Bryson DeChambeau would run away with a repeat victory at +750 odds. But, sometimes it's OK to be right for the wrong reasons.
In three years at the Rocket Mortgage Classic, we've seen dramatically different sets of leaderboards. It's a great week to diversify exposure on a longer card and reach for some longshots in trending form. I'll be looking closely at skilled putters, particularly on Poa-hybrid greens, as well as elite wedge players and birdie-makers in easy scoring conditions. We'll run through the key facts and info about Detroit Golf Club ahead of the 2022 Rocket Mortgage Classic.
ROCKET MORTGAGE CLASSIC ODDS: THE FAVORITES
Scroll to the bottom for complete outright odds to compare prices across legal sports betting in your state.
ROCKET MORTGAGE CLASSIC FIELD AT A GLANCE
The Rocket Mortgage Classic has never attracted the most formidable of fields. But, a new position on the schedule seems to have brought in a few more names at the top looking for one last tune-up before the start of the FedEx Cup Playoffs. 
Patrick Cantlay headlines the field this week as the No. 4 ranked player in OWGR. He's joined by Will Zalatoris, Tony Finau, Cameron Young and Max Homa to represent five total players from the OWGR top 20. That's a very solid showing for an event of this caliber and should help set up some appealing odds throughout the top and bottom of the betting board.
Past winners of this event include Cam Davis, Bryson DeChambeau and Nate Lashley. Davis and Lashley will return to defend their past titles this week.
INTRODUCTION TO DETROIT GOLF CLUB
The course stands at 7,370 yards, but as a par 72, it plays on the shorter side by PGA TOUR standards. It has produced equitable leaderboards of bombers and plodders.
The top-10 players in SG: TOT at Detroit Gold Club are Joaquin Niemann, Nate Lashley, Cameron Tringale, Kevin Kisner, Bryson DeChambeau, Viktor Hovland, Brandon Hagy, Chris Kirk, Maverick McNealy and Troy Merritt. That shows how many different routes players can take to find success. The distance disparity looks pretty severe within that group, but a trend of above-average long-term putting prevails.
This course lacks bells and whistles. The classical design doesn't feature the many water hazards we saw last week at the 3M Open. And although Detroit Golf Club is tree-lined, wider fairways make this less of a positional test than other parkland courses. The "bomb and gouge" approach has worked for players like DeChambeau and Matthew Wolff, but it hasn't given a distinct advantage over the shorter players who can consistently play from the fairway.
Given the wide fairways and options off the tee, I would describe Detroit Golf Club as a second-shot course. It has boiled down to a putting contest each of the first three years. A premium on putting is consistent with Donald Ross designs. We see a similar theme on his other regular PGA TOUR tracks like East Lake and Sedgefield CC. While putting is the most volatile and difficult stat to predict, there is still a skill to putting consistently well. This week more than most, I'll put a premium on the best long-term putters. History has shown us this is not a course where poor putters have suddenly caught fire. So, I'll take a stance and fade the worst putters in the field. 
How It Breaks Down
Detroit Golf Club features your standard mix of four par 5s, four par 3s, and 10 par 4s we expect to see on a par-72 layout. As a par 72, the 7,370 yardage actually plays on the shorter side when considering that much of the length lies in the 635-yard par-5 fourth, a three-shot hole for all. Despite that, all four par 5s have a scoring average of at least 0.25 under par. The par-5 17th is one of the easiest holes on the PGA TOUR with a scoring average of half a stroke under. The course also has two par 3s under 170 yards which each have a scoring average under par. In total, 11 holes average under par, and only two holes feature an average bogey-or-worse rate above 20%. So, we should expect the field to go low once again and push towards a winning score near -20.
The concentration of four borderline-reachable par 5s and four additional par 4s under 400 yards creates a notable emphasis on wedge play at the Rocket Mortgage Classic. Forty percent of approaches come form less than 150 yards out. That's a significant departure from the long-iron emphasis we're used to seeing on the PGA TOUR. In turn, that creates an opportunity to buy low on these wedge specialists. The top 10 in Prox <150 yards are Russell Henley, Chris Kirk, Wesley Bryan, Scott Stallings, Chase Seiffert, Andrew Novak, Adam Hadwin, Mark Hubbard, Max McGreevy and Cam Davis. Henley holds a significant edge in proximity at the top, three-times better than the next closest in Kirk.
Traits And Recent Notable Facts
The statistical breakdown of Detroit Golf Club tells a story consistent with the scoring on the leaderboards its first three years. This is an easy course.
In 2021, Detroit Golf Club ranked outside the top 10 in scoring difficulty across every statistical metric. It ranks bottom three on TOUR in terms of penalty strokes taken per round, missed fairway penalty, missed fairway percentage and SG: APP from beyond 150 yards. The one category in which Detroit Golf Club comes to closest to holding its own is putting difficulty. It ranked top 12 in this metric each of the last two years. It's clear this tournament will be won on the greens.
DETROIT GOLF CLUB COURSE SPECS
Yards: 7,370
Par: 72 (4x 3s / 12x 4s / 4x 5s)
Greens: Bent & Poa Blend
Architect: Donald Ross (Renovations from Robert Trent Jones, Arthur Hills, and Bruce Hepner)
Historic Cut Line: -2 to -4
Median Four-Round Score: -10 ('21), -12 ('20), -11 ('19)
Comp Courses: TPC Twin Cities, Sedgefield CC, Silverado Resort, TPC Deere Run, TPC River Highlands, TPC Craig Ranch, East Lake
Past Winners: Cam Davis -18 ('21), Bryson DeChambeau -23 ('20), Nate Lashley -25 ('19)
Hole-by-hole Breakdown:
COURSE HISTORY AND COURSE COMPS
Like the 3M Open which also joined the PGA TOUR schedule in 2019, it's hard to read too much into course history for a fledgling event. Especially so considering the role the greens play. To that point, the three winners (Nate Lashley, Bryson DeChambeau and Cam Davis) have a combined 0-for-5 in made cuts at the Rocket Mortgage Classic outside of their respective wins. I won't fade any players on the basis of poor course history alone this week. It actually creates a great buy low opportunity to catch drifted odds on a Cam Davis-type of player. He entered the 2021 Rocket Mortgage with missed cuts in his first two trips to  Detroit.
Kevin Kisner
While prior form at Detroit Golf Club hasn't predicted the first three winners, some players should still suit the course. Kevin Kisner stands out atop the list as the only player in this week's field to post two top-10 finishes and three made cuts at the venue. That checks out for a player like Kisner on a course that emphasizes strength in putting and wedge play while mitigating any advantage from longer hitters off the tee. Kisner has established himself as a Donald Ross specialist. In addition to the Detroit Golf Club history, he carries another six top-10 finishes since 2014 between the Wyndham Championship and TOUR Championship on Ross courses.
Over the last 24 rounds, the top-10 players in Donald Ross course history are Jason Day, Kisner, Rory Sabbatini, Ryan Armour, Chris Kirk, Sepp Straka, Webb Simpson, Denny McCarthy, Mackenzie Hughes and Maverick McNealy. Clearly, that list includes some of the best putters on TOUR over the last few years.
Just six players have made it through the cut in each of the first three years of play: Kisner, Cameron Tringale, JJ Spaun, Rickie Fowler, Adam Schenk and Scott Stallings. Only nine players have recorded multiple top-25 finishes: Kisner, Tringale, Troy Merritt, Doc Redman, Straka, Kirk, McNealy, Hughes and Roger Sloan. 
Additional players who have recorded a top-10 finish in a prior appearance at the Rocket Mortgage Classic include Nate Lashley, Brian Stuard, Brandon Hagy, Armour, Cam Davis, Hank Lebioda, Danny Willett, Simpson and Sabbatini.
The top-10 players in Course History at Detroit Golf Club are Kisner, Tringale, Lashley, Spaun, Merritt, Redman, Stuard, Straka, Kirk and Hagy.
Course Comps
At the John Deere Classic earlier this season, TPC River Highlands stood out as the top comp course to TPC Deere Run. That made JT Poston a popular play to parlay his T2 from the prior week.
We have a similar situation on our hands this week. TPC Twin Cities, host of last week's 3M Open, stands out as one of the top comps to Detroit GC. Both events produced a top two of Bryson DeChambeau and Matthew Wolff in their inaugural year in 2019. Both feature similar length on the scorecard with ample birdie opportunities and similar Bentgrass agronomy. The glaring difference between the two: the absence of lateral hazards and emphasis on putting at Detroit GC. Bombers can get away with swinging a bit more freely here, as long as they avoid being blocked out by the tree lines. The list of players who just found themselves in contention at last week who are in the field again this week include Scott Piercy, Emiliano Grillo, Tony Finau, Doug Ghim and Greyson Sigg.
In addition to TPC Twin Cities, Sedgefield CC is also very high on the list of comps. It has the Donald Ross connection, emphasis on wedges and putting, and overlapping success from players like Kevin Kisner and Webb Simpson. I'll also give a close look at performance on other comps like Silverado Resort, TPC Deere Run, TPC River Highlands, TPC Craig Ranch and East Lake, given the similar Bent/Poa-blended agronomy and easy scoring conditions in open, "putting contest" set-ups.
Combine performance across this list and the top-10 players in Comp Course History here are Webb Simpson, Kevin Kisner, Scott Stallings, Matt Kuchar, Cam Davis, Russell Henley, Harris English, Maverick McNealy, Patrick Cantlay and Finau.
KEY STATS TO CONSIDER
SG: APP
SG: Ball Striking
Good Drives Gained
SG: Putting (L36) / SG: P (Poa) / SG: P (5-10 ft)
Birdies or Better Gained / Opportunities Gained
Prox 75-150 Yards
Par-5 Scoring
Par-4 Scoring: <400 Yards
SG: TOT (Easy Courses)
Course & Comp Course History
Ball-striking form has not correlated very well with results at the Rocket Mortgage Classic in its three-year history. A tournament which has produced winners of Nate Lashley, Bryson DeChambeau, and Cam Davis should tell us that truly anything can happen at this event. While ample randomness exists this week, SG: APP remains the best place to start. With a unique layout producing 40% of approaches inside 150 yards, I'm looking to hone in on the top iron players with an emphasis on shorter distance. The top 10 in SG: APP who also rank above-average in Prox: 75-150 include Will Zalatoris, Max Homa, Russell Henley, Mark Hubbard, Scott Stallings, Wesley Bryan, Webb Simpson, Alex Smalley, Cam Davis and Ryan Moore.
Putting And Good Drives
SG: OTT has essentially proven a throw-away stat at this event. With that said, Good Drives Gained has acted as a useful combo stat to measure those who position themselves well to reach greens in regulation. The top 10 in Good Drives Gained this week are Brendan Steele, JJ Spaun, Nate Lashley, Ryan Armour, Lucas Glover, Doug Ghim, Brendon Todd, Chris Kirk, Tony Finau and Adam Schenk.
As a pure example of a PGA TOUR putting contest, I'll hone in on the most well-rounded putters in this week's field. At Detroit Golf Club, total (L36 rounds), Poa, and Donald Ross putting have proven fairly predictive leading in. Additionally, with greens reached in regulation well above the TOUR average, conversion in the 5-to-10-foot range has proven a significant indicator. Weighting these characteristics together, Denny McCarthy stands out as the clear No. 1 in overall putting. Then, Max Homa, Brian Gay, Kevin Kisner, Mackenzie Hughes, Matt Kuchar, Beau Hossler, Mark Hubbard, Sepp Straka and Troy Merritt follow.
As a basis for success this week, I'm looking for players above average in all key putting categories, as well as Prox: <150 and Birdies or Better Gained. Only four players in the field fit that criteria: Homa, Webb Simpson, Hubbard, and Chesson Hadley. 
Looking more broadly at key all-encompassing stats of Good Drives Gained, SG: APP, SG: P (L36 Rounds), and SG: TOT (Easy Scoring Conditions), just 10 players rate above average in each: Finau, Hubbard, Patrick Cantlay, Davis Riley, Keegan Bradley, Patrick Rodgers, Adam Svensson, Gary Woodland, David Lipsky and Hank Lebioda.
Correlations
Looking at the correlation charts this week, we have limited data from the three years of this event. But what we have has started to tell a more cohesive story. Par-3 Scoring and SG: OTT see a notable decline in importance compared to TOUR average, each falling outside the top 15.  At Detroit Golf Club, the correlations charts continue to tell the same story as the names on the leaderboards. SG: P, particularly on putts from 5-to-10 feet, continues to be the greatest indicator of success.
Only 11 players in the field rank above average in each of the above 10 key stat categories: Max Homa, Patrick Cantlay, Cameron Young, Keegan Bradley, Tony Finau, Davis Riley, Gary Woodland, Chris Gotterup, Patrick Rodgers, Scott Stallings and Maverick McNealy.
PLAYER SPOTLIGHT: MARK HUBBARD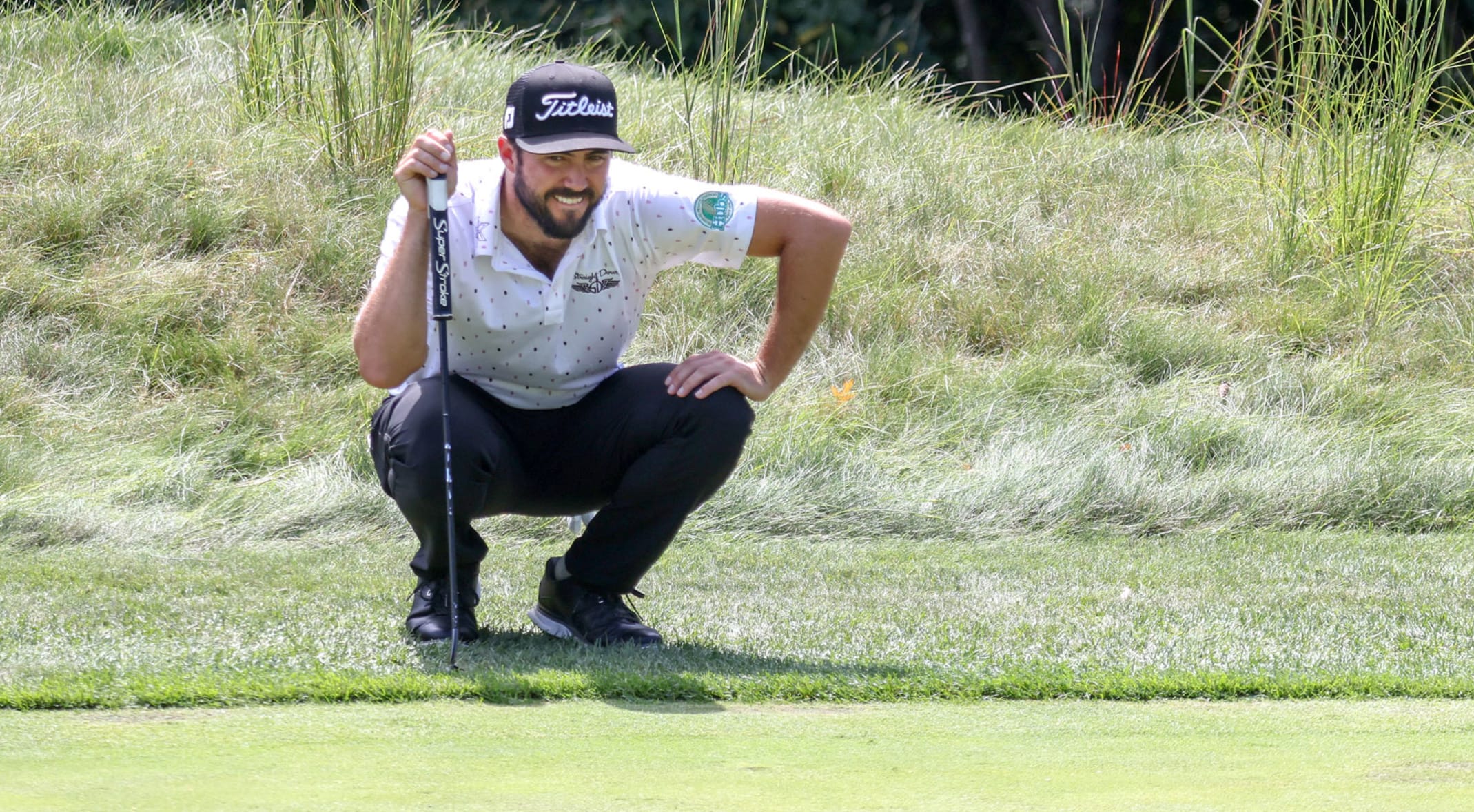 How long can we ignore a persistent name at the top of every stat model before taking it seriously? In the case of Mark Hubbard, the answer is evidently about seven months.
Hubbard is doing everything you want to see from a player in terms of form leading into a birdie-fest putting contest. Like Kevin Kisner and Troy Merritt, who've each regularly contended in the tournament's short history, Hubbard ranks about average off the tee. He makes up for it with trending form both with his irons and putting.
We've seen his name pop up as a betting favorite over recent opposite-field events like Barracuda Championship and Barbasol Championship. While they haven't necessarily had the wider golf audience's attention, Hubbard has been delivering with top-five finishes in each of those last two starts. Looking more broadly over the last six months, Hubbard has remained consistent with seven top-35 finishes and just two missed cuts over 14 PGA TOUR starts. 
While he has taken advantage of weaker fields, his stats still measure up well against steeper competition this week. He ranks No. 3 in my model thanks to top-15 ratings in SG: APP, Comp Course History, SG: TOT (Easy Scoring Conditions), Par-5 Scoring, SG: P (L36), SG: P (Poa) and Prox: <150 yards. With a T12 finish under his belt at the 2020 Rocket Mortgage Classic already, Hubbard is well positioned to pick up his first PGA TOUR victory on a perfect course fit in the best form of his career. We'll see uncomfortably short odds for Hubbard this week. But, I'll be ready to pull the trigger on Monday morning.
WHAT TO WATCH FOR AT THE 2022 ROCKET MORTGAGE CLASSIC
A putting contest lies in store, which means we should expect less of an advantage for the elite ball strikers at the top of the prices/odds. With just one event remaining after this week before the FedEx Cup Playoffs kick in, I expect we'll see the field a bit more focused than a typical flyover birdie-fest week as everyone jockeys for position. Detroit has been known to bring it for these events, so we should actually have a fun tournament in store, even if it lacks some depth.
With all the course-fit profiles in mind, I'm leaning early towards the below player pool. Naturally, I'm looking their way in the 2022 Rocket Mortgage Classic odds as well. I've broken the list down by projected pricing/odds tier for DraftKings.  
In my model, I'm emphasizing SG: APP, Comp Course History, SG: TOT (Easy Scoring Conditions), Prox: 75-150, and SG: P (TOT + Poa), followed by a more balanced mix of Par-5 Scoring, Birdies or Better Gained, Good Drives Gained, P4: 350-400 and P4: 450-500. 
Model Favorites
For the second week in a row, Tony Finau pops in the top overall spot for this week's model. He ranks top 10 in each of the priority stat categories of SG: APP, Comp Course History, SG: TOT (Easy Scoring Conditions), Par-5 Scoring and Birdies or Better Gained. With a good showing under his belt at the 3M Open, he should be a more popular pick this week than last, especially with the presence of more big names at the top of this field.
After Finau, the rest of my model's top 10 features Russell Henley, Mark Hubbard, Patrick Cantlay, Max Homa, Will Zalatoris, Scott Stallings, Chris Kirk, Chris Gotterup and Maverick McNealy.
When odds open on Monday, I'll be looking to target Hubbard, Matt Kuchar, Kevin Kisner and Denny McCarthy depending on what odds we see. Overall, I am looking to build out a longer card to combat variance and randomness in store at this tournament. Check back in later this week for more updates, and best of luck navigating the 2022 Rocket Mortgage odds!
Follow TheLines
2022 ROCKET MORTGAGE CLASSIC ODDS BOARD
Compare Rocket Mortgage Classic odds across legal U.S. sports betting apps in your state.