We're barely below street level, though we could be several hundreds metres under the Earth's surface. The walls are roughly hewn rock, the floor similarly bare, creating a sense of nature unadorned, of a world stripped bare. That's a conscious design decision in a place where every detail has been meticulously planned. Every other level of Hoshinoya, a luxury hotel in central Tokyo, speaks of the artisans and artists who have conceptualised and executed it: the dark wooden tones, the traditional tatami-mat floors, the fine paper shutters.
Below ground though, it's basic, it's elemental. You step out of the lift deep under the Earth's crust, into a cave, at the back of which sit a few small rooms, each with a table and chairs, places set for diners with rough wooden boards, each with a single, creased sheet of paper balanced in the middle.
The heart of one of the world's busiest business districts beats a few metres above – the thump of a million footsteps; the clatter of a million keyboards. And yet down here there's peace.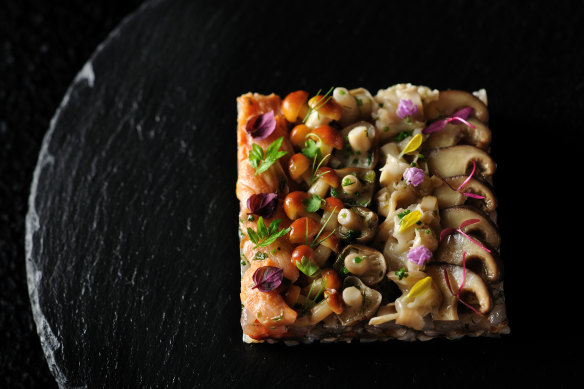 You have to work hard to create something different in the Tokyo culinary scene. This is a city with anything and everything: from fine-dining restaurants serving haute cuisine to worker-friendly bars slinging cheap yakitori; from friendly neighbourhood izakaya, to tacky theme pubs with costumed waitstaff.
But chef Noriyuki Hamada has created something different. His restaurant is the Hoshinoya answer to the traditional ryokan eatery. These country inns usually serve lavish set-menu dinners to their guests, often because there will be nowhere else to go from their remote locations.
There are places to go, however, in Otemachi, walking distance to Ginza and all of its gastronomic delights, not to mention Tokyo at large. Hamada, therefore, has had to create a reason to stay.
He's done that in this cave with what he calls "Nippon Cuisine", a blend of French techniques and Japanese ingredients. Hamada is inspired by the forests of Japan, he says, by the life nurtured there, by the minerals and nutrients that flow down to the sea and create yet another bounty.
It's all quite low-concept and artistic though perfectly reflective of a hotel that seeks to recreate the peace of a rural retreat in a downtown setting, one that pipes hot-spring water from 1.5 kilometres below Tokyo's surface to a rooftop onsen; one that encourages guests to wear yukata – Japanese robes – and do dawn kenjutsu lessons and midday tea ceremonies.