Hubbali-Dharwad cops keep eye on cricket betting this IPL season | Hubballi News – Times of India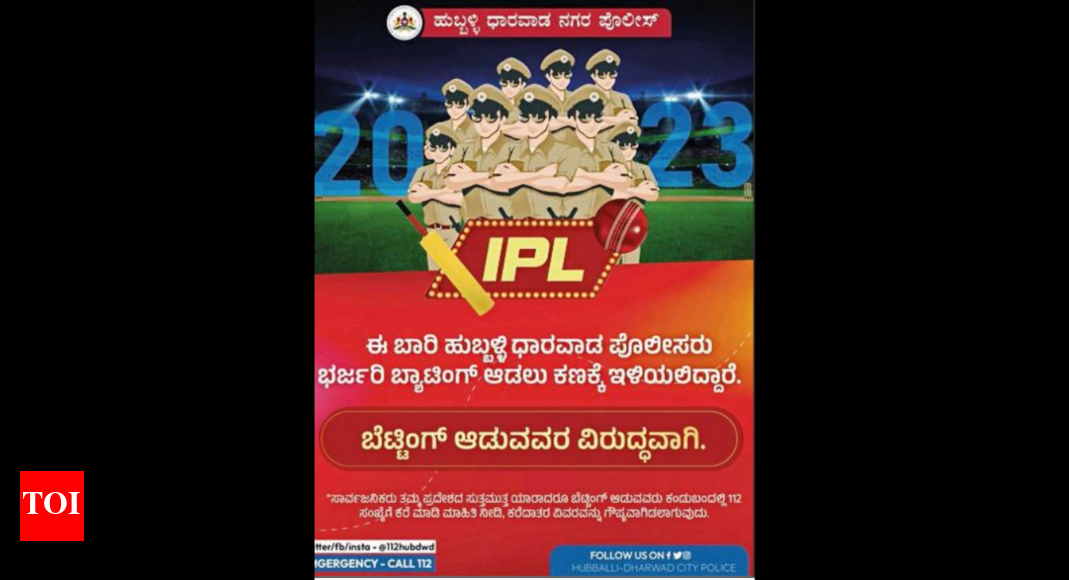 HUBBALLI: This IPL season, it will not be easy for cricket bookies in the twin cities to indulge in betting.
India's most-anticipated cricket league, the Indian Premier League (IPL), started on March 31 with a clash between heavyweights Chennai Super Kings and defending champions Gujarat Titans. Hubballi-Dharwad police are all set to curb cricket betting in the twin cities during IPL matches.
The Hubballi-Dharwad police commissionerate's social media account is abuzz with a warning against betting. It reads: "This time, Hubballi-Dharwad police will enter the arena to play great batting against the betting players." The warning is accompanied by an image of cops in uniform posing like players.
Raman Gupta, commissioner of police, said: "This time, we have zero tolerance against cricket betting. With an intention to check the same during IPL matches, a special plan has been chalked out. Instructions have been given to the officials concerned to act tough and check betting. An inspector-rank official will monitor the gambling, mainly cricket betting. An inspector from CCB will keep a close watch on betting and initiate stern action against bookies." According to police sources, inspector Ramesh Kamble will be monitoring the cricket betting in Hubballi-Dharwad with his special team of policemen besides the staff of different police stations.
"Finding the need for a special vigilance on cricket betting, the police commissioner has posted police inspectors to H-D police commissionerate's CCB division," the source added.
In the past, many families in Hubballi-Dharwad have faced problems due to their family members' cricket betting habit. "It's great move by the commissioner of police to deploy a dedicated police inspector to keep a tab on cricket betting. There is a need to create fear of law against illegal activities in the twin cities, police should initiate stringent action against cricket betting," said social activist Ramesh S.