I love the Battle 4 Atlantis. It's one of the best early-season MTEs year after year.
This season's edition is especially fun.
We have several vulnerable high-major teams with a few higher-powered mid-major squads. Some of these high-major squads have already dropped non-conference games to inferior, low-major squads.
For example:
Michigan lost to Long Beach State, 94-86
Arkansas lost to UNC Greensboro, 78-72
Villanova lost to Penn, 76-72
Stanford lost to Santa Clara, 89-77
So, this tournament is truly wide open and nearly impossible to predict.
Let's try and predict it anyway.
Read how to bet the Battle 4 Atlantis, including a bracket, full preview, picks, odds and predictions.
---
Battle 4 Atlantis Bracket
---
Battle 4 Atlantis Odds
---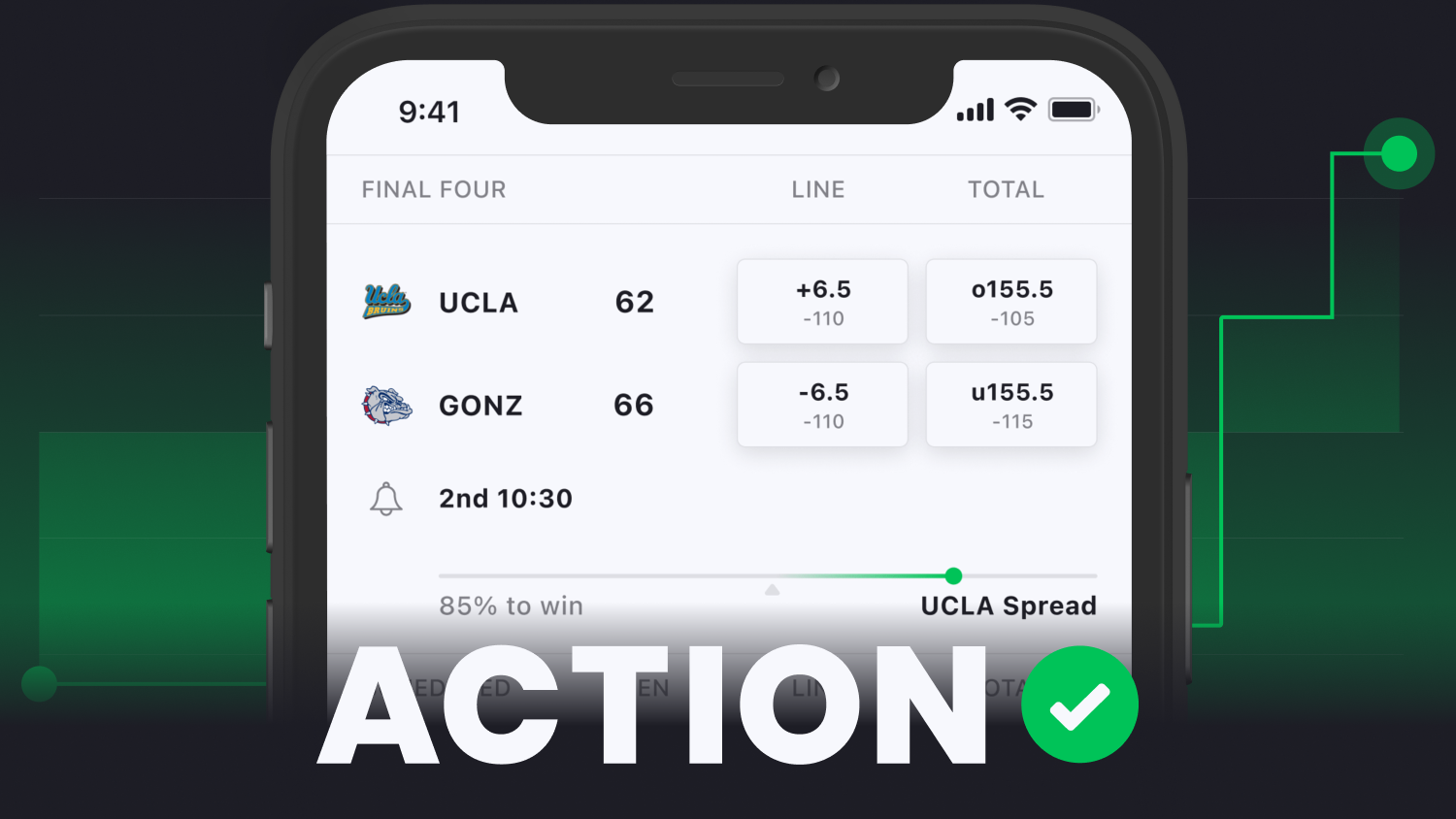 The must-have app for college basketball bettors
The best NCAAB betting scoreboard
Free picks from proven pros
Live win probabilities for your bets
The best part about this Tar Heel team is that they're old.
They're the seventh-most experienced team in the nation, per KenPom. Four of their five starters are upperclassmen and two are in their fifth year of college ball (Armando Bacot and Notre Dame grad transfer Cormac Ryan).
This old team hasn't faltered yet, although UNC is only 1-2 ATS.
This is a pretty typical UNC team. The Heels will run the floor and play in the post. RJ Davis and Ryan are good guards and Bacot is still Bacot (1.15 post-up PPP, 80th percentile).
Freshman point guard Elliot Cadeau is the key player to watch out for. A supposedly elite passer, he'll be a key ball-handler for either the first or second units. So far, he's struggled (81.6 ORtg, 30% turnover rate), and that could hold the Tar Heels back.
The interior defense has been excellent so far. Nobody can get to the interior on the Heels.
You can shoot on North Carolina, though. The Tar Heels are 290th in 3-point rate allowed and are average nationally in spot-up PPP allowed (.87, 48th percentile).
That might give the Panthers a path in Round 1.
Northern Iowa is always going to shoot underneath Ben Jacobson. And this team is old and experienced, returning essentially every major contributor from last year's squad.
The Panthers are 0-2 in D-I play but have been unlucky from 3 on both ends of the court – they're shooting 25% from deep while their opponents are shooting 42%, which is totally unsustainable.
I think the Panthers are due for some positive regression in that department, so I think they're undervalued. If they see some shots fall against UNC, I think they'll cover a double-digit spread.
They have some size on the interior, which will be crucial in battling with Bacot. So far, that size has played well, as UNI's interior defensive metrics are solid.
Between the shooting and the interior defense, the Panthers can hang here.
---
North Carolina sports betting is expected to go live soon in 2024! Get ready here!
---
I like this Nova team.
I love the wing additions of TJ Bamba, Hakim Hart and Tyler Burton to the existing two-man, inside-out core of Justin Moore and Eric Dixon.
This squad plays like a Nova team, running a slow-paced, perimeter-based offense – it's ball-screen after ball-screen until someone finds an open 3-point shooter.
The big Wildcat questions surround coaching and continuity.
Are we sure Kyle Neptune is the guy? And how long will it take for this relatively new group to come together?
Those two questions were aptly not answered last week, as Villanova backed up a four-point loss to Penn with a stifling, dominant 17-point win over Maryland four days later.
It's hard to know what we'll get from the Wildcats night-to-night, but these questions will be answered soon enough.
The post defense has been mediocre so far (.95 post-up PPP allowed, 30th percentile), and the Wildcats will always allow a lot of 3s (325th nationally in 3-point rate allowed).
It might be best to attack Villanova with a rim-and-3 approach.
We're still learning about the Red Raiders' new roster and head coach.
One thing is evident during this 3-0 start: The defense is phenomenal.
The defense will always be phenomenal because first-year head coach Grant McCasland is phenomenal. He built North Texas into a defensive powerhouse over the years, and it looks like he's doing the same at Texas Tech. The Raiders are eighth nationally in Defensive Efficiency and ninth in eFG% allowed.
He brought former Carleton University head coach Dave Smart to help with the defense. By using a semi-no-middle scheme – the defenders force opposing ball-handlers to the weak side and bring extra help – Smart coached Carleton to 13 Canadian National Championships.
The questions are on the offensive end.
McCasland-led teams generally play very slowly, utilizing half-court ball screens to generate shots at the rim or from deep.
This Red Raider team is getting out in transition a ton, hasn't posted up much – despite bringing in 7-foot post-up bucket Warren Washington from Arizona State in the portal – and hasn't made a single shot, shooting 20% from 3 and ranking last nationally in spot-up PPP (.52).
I'm sure we'll see Tech play more like McCasland's Mean Green teams going forward, especially considering the Red Raiders' current statistical profile is based on too small of a sample size. If they were to start playing as such, they could match up well with some of Villanova's defensive weaknesses.
That said, there's too much uncertainty surrounding the Red Raiders between all the new pieces and the new head coach.
---
The Tigers are a tough team. Penny Hardaway brought in a bunch of tough, hard-nosed, defensive-minded transfers.
This roster is loaded with athleticism and switchability, which has really shown up in the Tigers' interior defensive metrics – they rank 16th nationally in 2-point shooting allowed (39.7%) and in the 93rd percentile in paint points per game allowed (22.7).
Offensively, the numbers also look great, and they've hit the offensive glass hard.
But those numbers are inflated by hot 3-point shooting. They're shooting 40% from 3 through three games, with David Jones, Jaykwon Walton and Jahvon Quinerly shooting a combined 26-for-45 from downtown.
That's unsustainable.
Long Beach State is a pretty good team, but I think that loss shows some of the volatility surrounding the Wolverines. I'm unsure if the true talent is there.
That said, the new-look Wolverines offense is legitimately good.
Yes, they lost Hunter Dickinson, but their new frontcourt pieces – specifically, Olivier Nkamhoua, Terrance Williams II and Will Tschetter – are all solid shooters, resulting in much better spacing.
In fact, it's resulted in miles of free court for Dug McDaniel to work. And not only has he taken advantage of the spacing, he's excelled with it.
McDaniel has taken a massive leap. He's crushed it. He's significantly raised the ceiling of this team.
With his quick-twitch, blow-by speed, McDaniel is averaging 21/6 per game on 53% / 41% / 86% splits.
McDaniel and space is the engine, but the other pieces are chipping in. Nkamhoua is dropping 18 points per game with 70% true-shooting, and Williams is dropping 13 with 60% true-shooting.
Michigan is scoring over 90 points per game and ranks 15th in offensive efficiency.
Conversely, Michigan's pick-and-roll defense is highly questionable behind the undersized McDaniel at point, and the Wolverines' rebounding has taken a step back.
---
Use our BetMGM bonus code for bonus bets before making your Battle 4 Atlantis picks.
---
Let's see how Eric Musselman responds after his team's rough loss to UNC Greenville.
The Spartans are a good SoCon team and the Hogs shot 4-for-23 from 3, so I'm not overly worried.
Arkansas flipped its roster over in the offseason, but Musselman always does that. He takes a new group of guys, figures out how to best utilize the talent and then makes a Sweet 16 run in mid-March.
I expect the Razorbacks to be a heavy pick-and-roll offense behind Devo Davis, the only returning starter. I also expect them to leverage their athleticism and run the floor in transition.
Arkansas is huge on the interior, with four bigs standing 6-foot-10 or taller. That makes the Razorbacks the 30th-tallest D-I team by average height (78.3 inches). Behind Trevon Brazile, the team is fifth nationally in block rate, and opponents are shooting only 25% in the paint
Unfortunately, the perimeter defenders can get picked apart in ball screens. Devo is a good defender, but El Ellis and Khalif Battle aren't so much. Greensboro tallied well over a point per possession in pick-and-roll sets in its victory over Arkansas.
This Stanford team is playing fast and scoring like crazy.
The Cardinal are running unlimited cuts and hand-offs to 7-foot Maxime Raynaud at a top-70 pace. Stanford is scoring 87 points per game, including 42 paint points per game, with Reynaud responsible for 20 a night.
Unfortunately, that style of play doesn't match up well with Arkansas' monster interior defense.
However, Stanford's transition and ball-screen defense has been pretty good, so the Cardinal match up well defensively with Arkansas.
This could be a sneaky Under play despite the lightning-quick pace.
---
Battle 4 Atlantis Betting Recommendations
To recap some first-round matchup thoughts: I think UNI can hang within a double-digit spread against North Carolina, and I like a potential Under between Arkansas and Stanford.
Regarding betting on the event, I don't love this tournament from a betting perspective. While it's a wide-open tournament, the odds are reflective of that.
If I had to pick one team to win the Battle 4 Atlantis at the current odds, I'd probably take Michigan at +650.
The Wolverines' new-look offense is explosive and presents a set of high-variance outcomes that are alluring in potential "long-shot" candidates.
Or, in plain English, Michigan can out-score anybody when humming, so the Wolverines could shoot their way to a Battle 4 Atlantis title.
They'd also avoid the more experienced teams in the tournament until the championship, playing Memphis and Arkansas instead of Villanova and North Carolina. The path is there.
---
ESPN Bet Sportsbook is now another option to maximize your Battle 4 Atlantis action. You can now use our ESPN BET promo code TANBONUS for a new user welcome.
---