---
Going out: Cinema
Spider-Man: Across the Spider-Verse
Out now
After reuniting with Gwen Stacy, Miles Morales is back and swinging his way into the Multiverse. There he meets a whole cluster of Spider-People, voiced by an entire Met Gala's worth of hip celebs (including Jason Schwartzman, Issa Rae, Daniel Kaluuya and Oscar Isaac), in this follow-up to the charming 2018 animated adventure starring the webbed crusader.
Reality
Out now
When the FBI turn up on the doorstep of 25-year-old Reality Winner (Sydney Sweeney) it doesn't take long for her life to spiral out of control. This thriller is based on the real-life transcripts of the interrogation that took place following a woman's decision to leak a classified report about Russian interference in US elections to the media.
Mad About the Boy: The Noël Coward Story
Out now
Constructed from recently discovered private home movies, photographs and other archive material, this documentary from Barnaby Thompson chronicles the life and career of Noël Coward, the playwright, director and notable wit. With narration from Alan Cumming, and Rupert Everett as the voice of Coward.
The Boogeyman
Out now
A high-school student and her little sister are attempting to recover from the death of their mum, when one of their therapist father's patients shows up at their house asking for help, setting in motion a terrifying series of events. Adapted from a 1973 short story by Stephen King, this is one for fans of things that go bump in the night. Catherine Bray
---
Going out: Gigs
Kite festival
Kirtlington Park, Oxfordshire, Friday 9 to 11 June
Combining big-sky thinkers with reliable hitmakers, at Kite as well as seeing the likes of George the Poet, Sylvia Patterson and Adam Kay, you can dance around to Hot Chip, Alison Goldfrapp and Django Django. MC
Jonathan Gee/Ohisashiburi
Wednesday 7 to 11 June; tour starts Southend
UK jazz pianist Jonathan Gee started winning best newcomer prizes 30 years ago, and he's kept getting better and more versatile. Ohisashiburi is his quartet with three classy Italian partners including saxophonist Gaetano Partipilo – they like reworking the Beatles, Spandau Ballet and Prince, but play intriguing originals, too. John Fordham
Serpentwithfeet
Queen Elizabeth Hall Foyer, London, Friday 9 June
Performing as part of the Christine and the Queens' Meltdown festival, Serpentwithfeet, AKA the intriguingly tattooed Josiah Wise, brings heart-swollen R&B tracks from his two acclaimed, Björk-approved albums, 2018's Soil and 2021's Deacon, as well as songs from his forthcoming third record. MC
Giant
Snape Maltings, Aldeburgh, Friday 9 June to 10 June
This year's Aldeburgh festival opens with the world premiere of Sarah Angliss's opera. It tells the story of the "Irish giant" Charles Byrne, whose body obsessed 18th-century scientists; Karim Sulayman takes the part of Byrne with Jonathan Gunthorpe as Hunter, the surgeon who betrayed him. Andrew Clements
---
Going out: Art
Gruppenausstellung
Hauser & Wirth Somerset, Bruton, Saturday 3 June to 1 January
The title of this show is meant to suggest the Swiss origins of Hauser & Wirth, whose rural English venture is part of a global art business founded in Zurich in 1992. It can't fail to divert, with art by Martin Creed, Isa Genzken, Paul McCarthy, Cindy Sherman, and Dieter and Björn Roth.
Joana Vasconcelos
Waddesdon Manor, nr Aylesbury, Thursday 8 June to 26 October
Something truly surreal for summer, a colossal sculpture of a wedding cake that rises above the trees on the estate of the Rothschild family. What's more, you can go inside this colourful, exuberant structure. Portuguese artist Vasconcelos is renowned for her sprawling, comical creations. This is her boldest yet.
Anselm Kiefer
White Cube Bermondsey, London, Wednesday 7 June to 20 August
The great German artist whose paintings are as hefty and expansive as installations, and whose installations are like walking into paintings, turns the biggest White Cube gallery into a homage to James Joyce. Kiefer recreates the dreamworld of Joyce's final masterpiece, Finnegans Wake, in what should be an extraordinary show.
Bloomsbury Stud
Philip Mould Gallery, London, Monday 5 June to 11 August
Virginia Woolf called sculptor Stephen Tomlin "the devastation of all hearts". But was this glamorous figure of early 20th-century Britain also a great, forgotten artist? Tomlin portrayed Bloomsbury Group icons Lytton Strachey, Duncan Grant and Woolf herself, while having affairs with both women and men before his early death. Jonathan Jones
Going out: Stage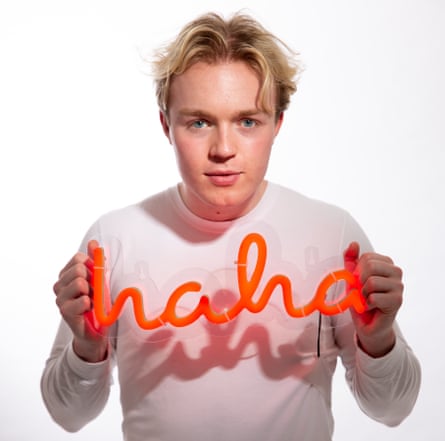 Finlay Christie
Komedia, Brighton, Thursday 8 June; Hazlitt theatre, Maidstone, Friday 9 June; touring to 18 June
Embarking on a comedy tour at 23 may sound precocious, but Christie is an old hand: he started performing when he was seven. Now TikTok-famous, he steps out into the analogue world with OK Zoomer, both a send-up and defence of gen Z. Rachel Aroesti
All of It
Royal Court theatre: Jerwood, London, Tuesday 6 June to 17 June
A trilogy of short plays from the tender and imaginative Alistair McDowall – including a revival of his 2020 monologue All of It. All three are written for Kate O'Flynn, an actor with incredible power, but vulnerability too. Miriam Gillinson
Assassins
Chichester Festival Theatre, Saturday 3 June to 24 June
Sondheim's musical is a gloriously strange work about a bunch of people who all want just one thing: to assassinate the President of the United States. Revived by Polly Findlay, who always directs with intelligence and purpose. MG
New Wayne McGregor
Royal Opera House, Friday 9 June to 17 June
A Royal Ballet triple bill, featuring a new piece by McGregor, in collaboration with Icelandic composer Anna Þorvaldsdóttir, with costumes by Burberry. There's more high fashion courtesy of Erdem Moralioğlu, designing for Christopher Wheeldon's Bernstein-scored ballet Corybantic Games. Lyndsey Winship
---

Staying in: Streaming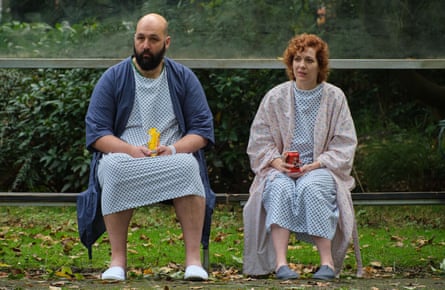 Significant Other
Thursday 8 June, ITVX
An unexpected but tentatively promising romance blossoms from a moment of trauma between two neighbours – played by the reliably brilliant Katherine Parkinson and the Bafta-nominated Youssef Kerkour – in this dark comedy-drama, the latest English-language adaptation of an Israeli show (see also: Homeland, Euphoria).
The Idol
Monday 5 June, 9pm, Sky Atlantic & Now
Has any drama in recent memory been so steeped in scandal? Abel "the Weeknd" Tesfaye plays a cult leader who targets Lily-Rose Depp's troubled pop star in this seedy music biz satire, which has already been subject to a damning exposé by Rolling Stone. Could be a car crash, could be a bracingly edgy triumph.
The Crowded Room
Friday 9 June, Apple TV+
He's still synonymous with Spider-Man, but this 1979-set thriller inspired by the crimes of "campus rapist" Billy Milligan could propel Tom Holland's career well beyond the MCU. Starring alongside Emmy Rossum and the always sensational Amanda Seyfried, he plays a young man who keeps his transgressions a secret from everyone – including himself.
Based on a True Story
Thursday 8 June, Peacock & Now
If you're tiring of true crime's pop cultural domination, this thriller skewering the genre is here to provide a much-needed palate cleanser. Kaley Cuoco and Chris Messina star as a cash-strapped couple who decide to start a podcast about a local serial killer – but making money from murder turns out to be an extremely risky business. RA
Staying in: Games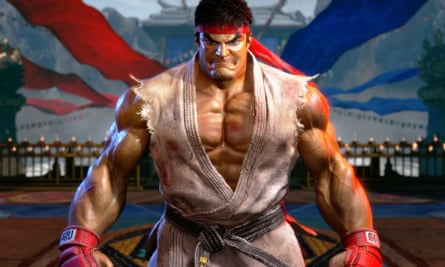 Street Fighter 6
Out now, PS4/5, Xbox series X/S, Windows
The exuberant fighting series returns, more colourful than ever. Even those who haven't had an after-pub bust-up since the 90s are catered for, with new simplified controls.
Diablo IV
Out Tuesday 6 June, PS4/5, Xbox One, Xbox series X/S, Windows
Journey into hell in an endlessly compulsive action RPG. Veteran players will be approaching this with some trepidation, as Diablo is notorious for stealing your life. Keza MacDonald
Staying in: Albums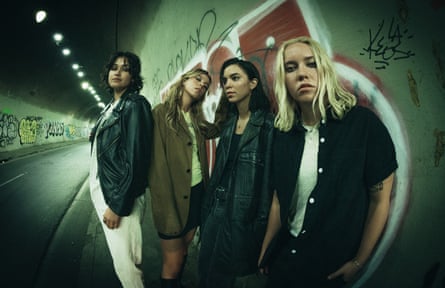 The Aces – I've Loved You for So Long
Out now
Utah's premier all-female indie pop quartet return with a third set of sun-kissed earworms. Exploring their early relationship with Mormonism and their queer identities (on the great lead single Girls Make Me Wanna Die), it features a lovelorn title track that's a teen movie soundtrack in waiting.
Jake Shears – Last Man Dancing
Out now
While the former Scissor Sister's 2018 self-titled debut album recalled 70s-era Elton John, this sparkly follow-up, with guest spots from Kylie Minogue and Big Freedia, skews more decadent. Too Much Music is a big shimmering disco number, while I Used to Be in Love lovingly recalls his old band.
Foo Fighters – But Here We Are
Out now
Imbued with the sadness of losing drummer Taylor Hawkins, the Foo Fighters' 11th album channels those heavy emotions into 10 melodic rock anthems. Lead single Rescued gallops out of the traps with Dave Grohl searching for answers, while Under You dresses up a heartbroken lyric in a typically radio-friendly maelstrom.
Sophie Ellis-Bextor – Hana
Out now
On her first studio album since Familia in 2016, the kitchen karaoke favourite reunites with balladeer Ed Harcourt for more elegant pop. Inspired by a trip to Japan – the title is Japanese for blossom – Hana was ushered in by hopeful lead single Breaking the Circle. MC
Staying in: Brain food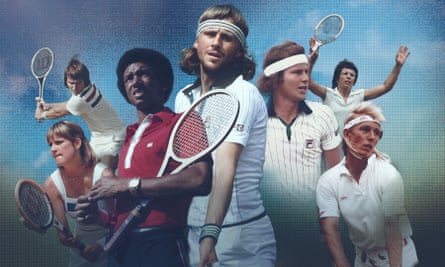 Gods of Tennis
Sunday 4 June, 9pm, BBC Two
Ahead of Wimbledon, this engaging three-part series explores the rapid changes that tennis underwent throughout the 70s and 80s, all on the grass of Centre Court. Featuring interviews with John McEnroe, Billie Jean King and others.
Mixtape Memoir
Podcast
Updating the Desert Island Discs formula, Mixtape Memoir sees host Carmel Holt discuss the tracks that have shaped the lives of her top-tier female musical guests, from Karen O to Tori Amos, replete with immersive sound design.
Radio Atlas
Online
An ingenious means of finding the best foreign-language radio programmes, this curated online database pairs shows from around the world with English subtitles and video, hosting everything from fascinating stories on Irish poetry to Kenyan landscapes. Ammar Kalia