Do you remember life before podcasts? Yes, obviously, is likely to be the short answer. Podcasting is still a relatively youthful medium, after all. In fact, it is exactly 20 years this month since the format's invention: Open Source – a politics and culture discussion show hosted by the journalist Christopher Lydon – debuted in the summer of 2003, and is widely considered the first ever podcast. (Not that it was actually called podcasting at that point; the term was coined the following year by Ben Hammersley in an article for the Guardian.)
Yet if you are one of the approximately 20 million people in the UK who listen to podcasts – and especially if you're a heavy user like me (I listen while I am cleaning, cooking, eating, walking, on the bus, having a bath – essentially anything that doesn't engage my word brain) – the art form will have subtly but comprehensively changed the flavour of your everyday life. For many of us, podcasts have become constant companions, fostering parasocial relationships, exposing us to candid conversations and unearthing thrilling, sometimes salacious stories.
During their short lifespan – to put it in perspective, we are now at the equivalent of 1950 where TV drama is concerned, and 1912 for widely available recorded music – podcasts have loudly made their presence felt. But their impact has stretched far beyond the podcast app on your phone. The form is also waging a stealthy campaign to remake pop culture: nudging comedy, television, film, celebrity and even music in new directions.
What was the first podcast you listened to? For a lot of people – myself included – the answer will be The Ricky Gervais Show. An edited, downloadable follow-up to the XFM radio programme Gervais presented alongside Stephen Merchant and Karl Pilkington, it was first released in 2005 via the Guardian's website. (Its on-demand delivery method is perhaps the most obvious distinguishing factor between a podcast and a radio show.) By 2006, The Ricky Gervais Show was the world's most popular podcast, averaging 261,670 downloads per week.
In a sense, we have barely moved on. That show's setup – comedically gifted pals shooting the proverbial – remains one of the most popular approaches for a hit podcast (Parenting Hell, My Therapist Ghosted Me, and Wolf and Owl are all currently fixtures of the podcasting top 10). And yet, in the intervening years, the podcast has transformed the comedy world itself.
While Gervais and Merchant were far from outsiders – they had only recently created one of the decade's biggest sitcoms – their model ended up breaking down barriers in the industry. Podcasts are generally a DIY medium and there are no official gatekeepers. "The beauty of podcasts is anyone can do it; you're not a slave to the commissioning process or doing it through the lens of an exec who doesn't really understand the lived experiences of a community," says Poppy Jay, co-host of the award-winning Brown Girls Do It Too.
When they were growing up, Jay and her co-host Rubina Pabani – who both have a background in factual TV production – felt comedy was something for other people. A perfect storm of British Asian familial expectations – being a comedian "is so far down the pecking order, it's not even on the ticket," says Jay – and the very male Bollywood slapstick and aggressively white and male British standup they were exposed to growing up ("We always talk about how Jim Davidson was the idea of who should be funny") meant they "had no idea we could access that space", says Pabani.

In short, were it not for podcasts, there is no way the pair would have found themselves professionally engaged in the business of making people laugh. And they inarguably are: last year, they embarked on a nationwide tour of the podcast's stage show, an hour of skits, storytelling and conversation. Now, Jay and Pabani are keen to continue further down this road; their latest ambition is to perform standup as a double act.
Live podcasts attract punters "who have never come to see a live comedy show before", says Ophelia Francis, head of live comedy at London venues 2Northdown and 21Soho. It follows that they also tend to be the most reliably popular events; "some of the biggest and quickest-selling shows that we've had at the venues". The accessible nature of podcasts means they are able to attract a large audience keen to repay the hosts for all the hitherto free entertainment, and see a comedy show they are guaranteed to connect with thanks to their existing intimacy with the performers.
Often these live podcasts translate to bigger gigs than already successful comedian hosts would have sold in their day jobs: the wildly successful Parenting Hell podcast, presented by Rob Beckett and Josh Widdicombe, has recently been on an arena tour. Even the guests on high-profile podcasts such as Off Menu see a big boost in ticket sales, says Francis.
Podcasts haven't just ballooned audiences; they have helped change the content and tone of comedy itself. The medium is part of a shift away from the gladiatorial nature of 00s comedy, with its unforgiving club audiences and brutal panel shows, to an overtly friendlier world (most chat podcasts double as performative friendships). Ben Williams, the producer of James Acaster and Ed Gamble's Off Menu, one of the UK's most popular podcasts (where fans will know Williams as the Great Benito), agrees that podcasts have helped change the tenor of comedy from combative to collaborative. "That's the key difference: no one's trying to win anything on Off Menu."

As opposed to edginess, disruption and discomfort, podcasts rely on intimacy, repetition and familiarity. As Williams points out, "podcasts are full of in-jokes where the more you've listened and the more you've engaged with it, the more you're rewarded". This high-exposure, high-volume model works better when the comedy stems not from finessed jokes but from comedians sharing cathartically frank revelations along with the humdrum minutiae of their lives. The classic sound engineer's mic check question – "What did you have for breakfast?" – now counts as content.
When I spoke to Parenting Hell's Widdicombe last year, he said the podcast had led to a broader shift in his approach: rather than his previous specialism of deliberately impersonal observational comedy, he found audiences responded better to something more direct and unfiltered. "When you're talking more about your worries and your struggles, people respond in a completely different way. It took me 12 years to realise that I'm much funnier when I'm being honest about my life. So now I try to take that into other things."
Podcasting has blurred the edges of the comic form itself: you don't have to be a comedian to do comedy any more, and if you are a comedian, you no longer have to tell jokes to make audiences laugh and – perhaps more importantly – love you.
If The Ricky Gervais Show was not your gateway podcast, Serial probably was. Debuting in 2014, it saw journalist Sarah Koenig investigate the 1999 killing of Hae Min Lee, breaking records by becoming the first podcast to top 5m downloads later that year. The following year it won a Peabody award and in 2023, Adnan Syed, the man serving a life sentence for Lee's murder, was released after the show highlighted flaws in the original case (though a Maryland appeals court has recently reinstated the murder conviction and Syed's legal status remains uncertain).
Since Serial's release, there have been multiple reports of impending TV adaptations, none of which have yet made it to air. But TV platforms – especially in the US – are increasingly busy with podcast adaptations. Aaron Hart is the head of TV and film at US firm Wondery; his job is to "transition" the podcast company's true-crime – or "true-crime-adjacent" – wares into scripted series; previous star-studded successes have included The Shrink Next Door and Dr Death. For commissioners, the appeal of this podcast-to-drama model is myriad. Podcasts act as "proof of concept", he says, demonstrating the story's "basis of structure" and "propulsive narrative" – both crucial for binge-friendly streaming material.
Another advantage is the meticulous research that goes into producing a high-quality factual podcast (Wondery's typically take six to nine months to make), which results in more richly detailed drama, says Hart. He also points out that he is often able to start the pitching process with A-list talent – who were won over by the original podcast – already attached.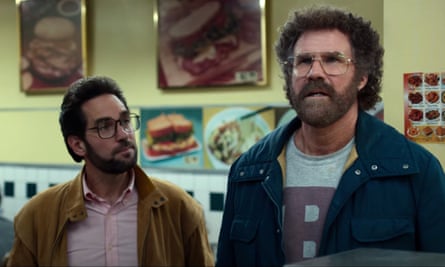 All of this makes podcast adaptations very attractive for networks and streaming platforms. Hart says that a hit podcast's "built-in audience" is also very appealing, but doesn't that mean the target viewership is already familiar with the plot? "It's more insight: seeing how a certain event told within a podcast can be filled out more on the television side," says Hart. "Audiences want to learn everything they can behind these stranger-than-fiction stories."
"Everything" is the operative word. The true-crime boom has seen the same stories told many times, over podcasts, documentaries, scripted dramas and multiple articles. Now, the trend is extending beyond known criminals and into the world of business: last year's hit podcast-to-TV adaptations included Hart's WeCrashed (about the fall of WeWork) and The Dropout (about fraudulent medical startup Theranos). This year, film is getting in on the act: April saw the Ben Affleck movie Air chronicle the inception of Air Jordans; in May, we witnessed the rise and fall of BlackBerry; and this month sees Eva Longoria make her film-directing debut with Flamin' Hot, the origin story of flamin' hot Cheetos (yes, really).
The podcast model has popularised the documentation then dramatisation of real stories, something that alongside the glut of reboots, prequels, adaptations and brand spin-offs forms part of a movement the New Yorker exasperatedly christened "the numbing rise of IP [intellectual property] TV". All this repetition serves to highlight any small scrap of novelty. Like the comedian dropping a tiny but hitherto private snippet of information in a chat pod, if an adaptation can unearth even one unexplored detail, that may be enough to sate audiences.

Ruth Barnes is director of Chalk & Blade, one the UK's first podcast-specific production companies. Its podcasts Obsessed With … act as companion shows for various BBC dramas, from Happy Valley to Killing Eve. Part of the aforementioned trend for wringing every last scrap of content from a story – in this case a fictional one – the podcast plays into the sort of pop culture fandom that was once the preserve of hardcore enthusiasts but is now pitched towards mass consumption. The internet may be responsible for making pop-culture geekery more intense and accessible, but podcasts have made it a form of entertainment. Barnes thinks the medium is uniquely suited to the job. "People have always wanted that much detail but there wasn't the right medium. Now we have this medium that allows you to hoover up as much as you want whenever you want and you don't have to be sat still doing it."
Podcasts cater to the part-time nerd, dedicated to soaking up knowledge ambiently. That's because they are designed for passive consumption; a cause and symptom of our cracked attention spans, perfect for the age of optimisation and the cult of busyness. But podcasts are by no means background noise. They work hard to be engaging, often doing so via a strong authorial voice. Sometimes literally: just behind popularising true-crime podcasts and helping overturn a murder conviction, host Koenig's distinctive vocal fry is Serial's third most important legacy.
According to Jonny Taylor, director of original documentary film at Netflix, "the relationship between podcasts and documentaries is completely symbiotic". Podcasts "tend to feel quite authored, you have a real sense of journalistic voice, and I think that's something we're learning from". When making the lockdown smash Tiger King, his team "spoke about podcasts lots. The whole way Tiger King is set up is like an investigation; someone started a journey not knowing where it was going to go. What podcasts have done is put that front and centre and really allow the listener to engage in that quest with the presenter."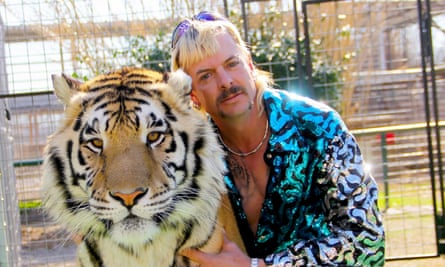 This combination of the author's journey coming to the fore and a move away from fancy production is linked: podcasts have encouraged pop culture to show its workings. On investigative podcasts such as The Trojan Horse Affair and Sweet Bobby, hosts narrate their journalistic triumphs and failures in what feels like real time (doorstepping someone who isn't home, unearthing an overlooked document).
It applies to music, too. Song Exploder, arguably the world's most successful music podcast, takes the form of a hyper-detailed making-of guided by the track's creator(s). On each episode of Norah Jones Is Playing Along, the singer-songwriter chats and jams with a fellow musician (guests have included Logic, Mavis Staples and Jeff Tweedy). "We're letting the listener in on [the process of music-making] instead of trying to polish it up," says Jones. "There's mistakes in every one." Ideas from the collaborations – such as "different chord changes people come up with" – then find their way back into her solo output.
Demystification of music itself isn't the only advantage to an artist of having a podcast. Although pop fandom has been fuelled by social media, it is often a highly manipulative and strangely opaque medium, whereas podcasts offer an opportunity to connect with supporters in a more comprehensive way: alongside Jones, pop stars with pods include George Ezra, Dua Lipa and Tom Grennan. "I do think if people are listening to it they get a better idea of who I am than probably ever in my career, through any other thing," says Jones.
Widdicombe, who also interviews celebrities on Parenting Hell, believes the podcast is the best place for honest conversation. "People give much better interviews on podcasts than you would ever see on TV. They're longer-form so it can be much more meandering, there's no studio audience you're worrying about, and also by dint of it not feeling like it's being filmed, I think people open up a lot more."
Podcasting is altering pop culture in interlaced and often rather ambivalent ways. It is making the arts more meritocratic and transparent, by exposing creative processes. By the same token, it thrives on candour – or at least the impression of it – meaning in every discipline, intimacy is becoming a must-have rather than a USP. Podcasts have also helped create a burgeoning class of casually obsessive consumers, searching for fresh crumbs of information thanks to an over-exposure to the same true-crime(-adjacent) stories or the same hosts discussing their lives each week. That repetition also fuels a risk-averse TV landscape – where commissioners can hear their shows in full before they make them – and comedy world, where invention is superseded by familiarity.
Where do we go from here? According to numerous reports we have reached "peak podcast", but the narrative is iffy. The New York Times sounded the alarm back in 2019, citing the huge quantity of shows being launched each month – but listenership has practically doubled since. This year, the idea that the overinflated podcast bubble is set to burst gained traction again, with Vulture's Nicholas Quah warning that "2023 is going to hurt".
Yet even if the format does dwindle (which is highly unlikely; experts are forecasting continued audience growth), podcasts are already ahead of the game. For those invested in the industry's future, this is not a format with potentially fluctuating popularity, but a state of mind. Barnes considers them "more of an aesthetic" than a medium. "It's a freedom of speech thing, you can go deep and not be worried about being edited."
Next, she is focusing on podcasts as a visual format, rather than an audio one (already, filmed versions of quite a few podcasts are available to watch on YouTube). "Podcasts have got to be platform agnostic, but the content's got to be true to the core of what has made them so engaging, which is deeply personal and very authentic." With that increasingly elastic definition in mind, perhaps podcasts won't continue to influence pop culture – maybe they'll simply become it.
You can listen to the Guardian's many, many podcasts here.