We will discuss the Valero Texas Open in a second, but this event accentuates the need for patience when betting on sports. It is important to remember that not every betting board is ideal from a long-term growth perspective. Sometimes that means the numbers being offered aren't conducive to long-term success.
We probably see that in 90% of "bad situations." However, the lack of information through two days of this tournament is another route that can skew the outlook for many in the field.
Nearly 50% of the players still have half their second round left. The cut-line is teetering between par and one-under and the weather has been inconsistent, to say the least.
Seriously, how many more delays can we get throughout these rounds? Since I am not someone who forces action, I don't want to generate work only for the sake of providing content, so we will instead talk about the players near the top of the board and try to see how they have earned their strokes so far in Texas.
If you haven't already, you can find me on Twitter @TeeOffSports. There, I will provide a link to my pre-tournament model, a powerful and interactive data spreadsheet that allows user inputs to create custom golf rankings. That sheet is released every Monday, so be sure to check it out and construct your own numbers from my database of information.

Valero Texas Open Leaderboard
Strokes Gained: Off-The-Tee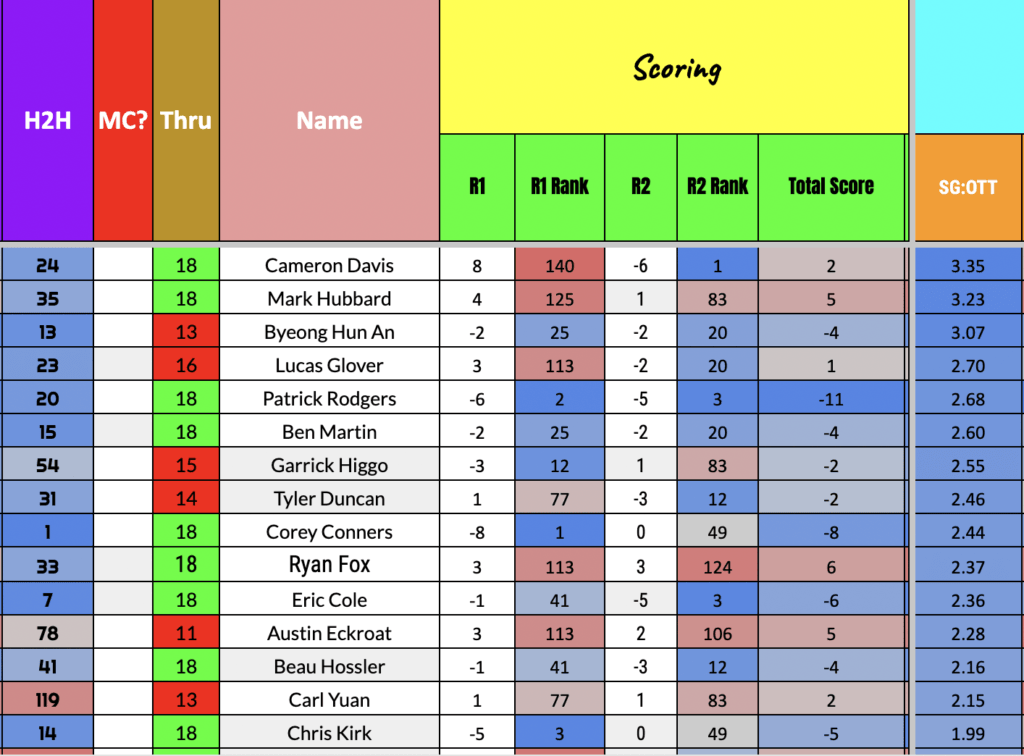 One of the interesting things to note with the off-the-tee data is that six of the top-15 players in that area are highly questionable to miss the cut. I am not sure TPC San Antonio should ever have been viewed as a venue that highly rewarded that portion of a golfer's game, but there were some unique traits that still make this marginally surprising.
Strokes Gained: Approach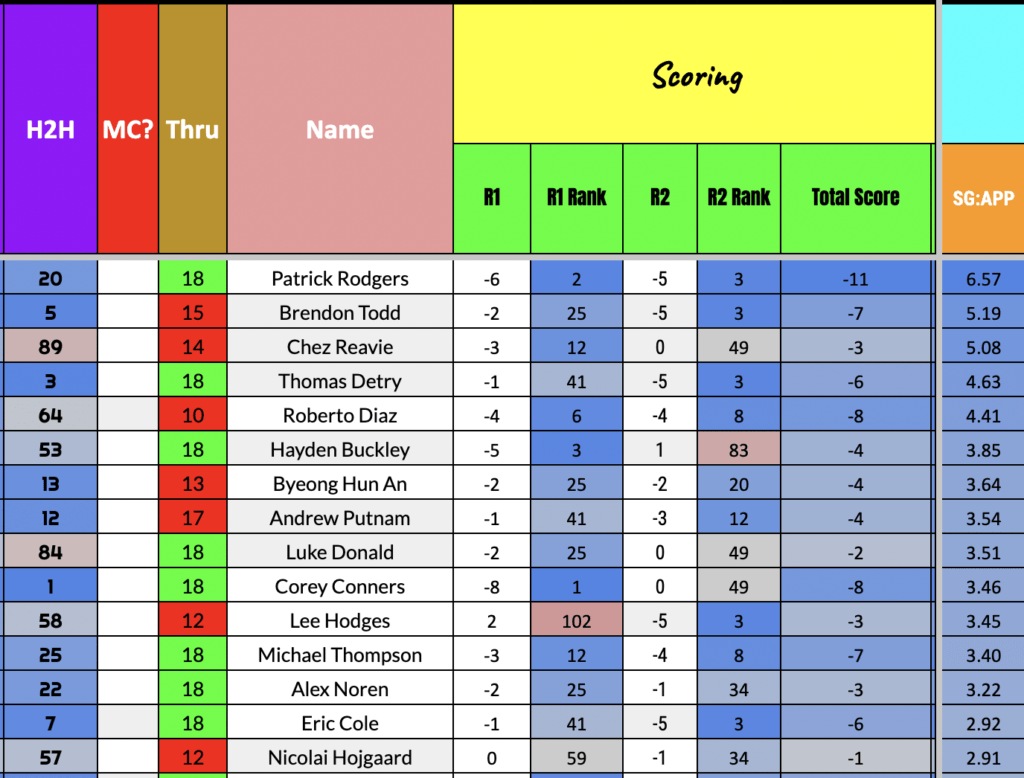 As of Friday night, the top-15 players in Strokes Gained: Approach are safe for the weekend. We know this is a ball-strikers venue that highly rewards an all-around iron skillset, and I feel we have seen that come to fruition so far this week.
Strokes Gained: Around-The-Green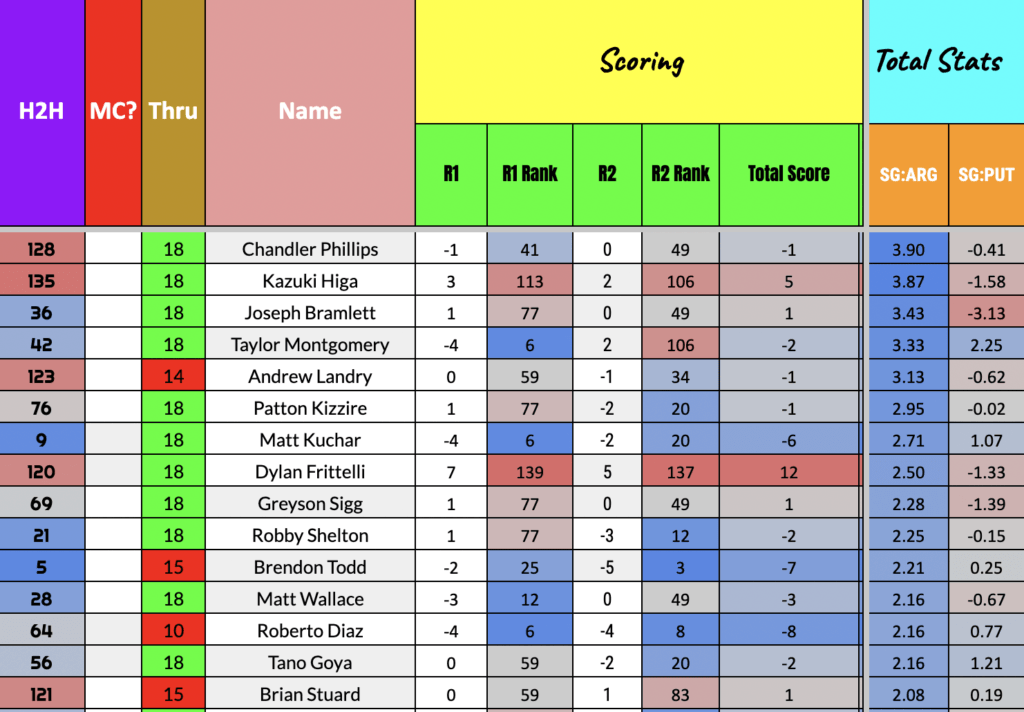 I noticed two things right away from the data. For starters, gaining strokes with touch has helped players maintain their total. We see that in 13 of the 15 names at one-over or better. The 7% decrease in GIR percentage for this course told most of that story pre-tournament.
Secondly, the predictive nature of high-end players on my model versus long-shot golfers seems to generate an equal mix of expectations. I don't believe that is shocking since short-game numbers are always more volatile, but it is still interesting to note.
Strokes Gained: Putting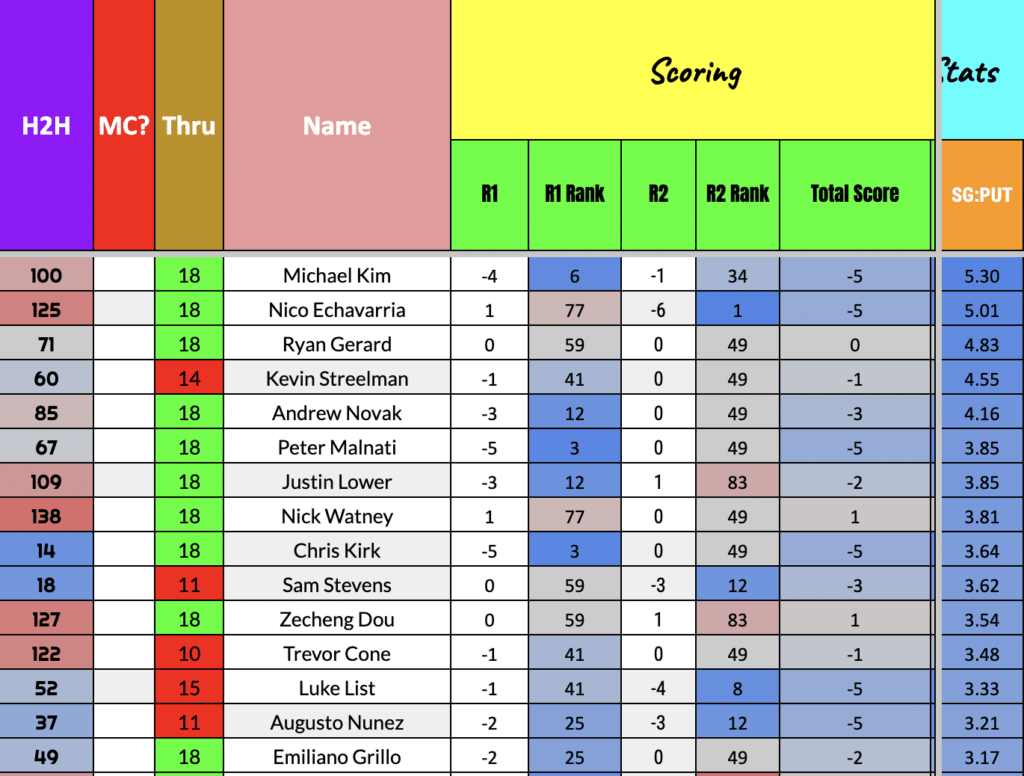 Players who hit their putts have faired well this week. Players have been facing a 4% increase in putts made from 5-15 feet over a typical tournament, and it has often allowed poor ball striking to be rewarded, especially from an off-the-tee perspective.